Location
The Center for Processing of Forest Tree Seeds (Forest Seed Center) operates within SE "Srbijašume". It is located in Požega, Forest Estate "Užice", among the mountains Golija, Zlatibor and Tara where a large number of seed stands can be found, primarily coniferous species of forest trees. The Forest Seed Center is in the near vicinity to the road Čačak – Užice and railway line Belgrade – Bar, which provides good traffic connections with seed bases and centers for marketing of forest seed and planting material.
Technological equipment and capacity
The Forest Seed Center is equipped with the most-up-to-date technology used in the world. It is the highest quality production plant for processing and storing forest seeds in South-East Europe. The application of modern technology results in high-quality seed production, as well as long-term seed storage with preservation of high germinability and germination energy.
The modern facility, designed in accordance with the demands of seed processing, and the use of high technology allow for a continuous flow of the following process:
receipt of unprocessed seeds and cones at the cleaning line;
seed extraction;
wet dehusking;
drying;
calibration;
elimination of non-germinated seed;
treatment and
cold storage.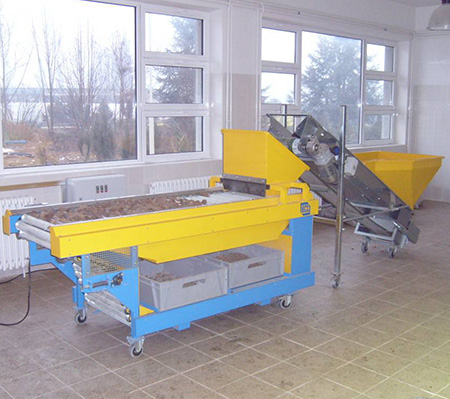 At the Forest Seed Center there is a laboratory with metering devices for the control of seed moisture content and germination percentage.
The capacity of the Forest Seed Center enables the receipt and processing of the entire quantity of cones collected in the Republic of Serbia in the year of full yield, as well as the provision of forest seed processing services to neighboring countries.
The Scientific Educational Function
Within the Forest Seed Center, on an area of ​​18.4 ha, there is a production – experimental nursery garden where forest and horticultural planting material is produced. The Forest Seed Center and the Nursery allow the whole process of reproductive material production to be seen in one place, from the seed to the grown seedling ready for planting.
This is one of the main reasons that, since its establishment in 2007, a large number of educational visits have been organized at the Forest Seed Center, thus affirming our Enterprise in a positive way and putting us under the obligation to continue investing in quality seed production and to keep up with modern trends in the field.
The modern building, which houses the Forest Seed Center, disposes of a room for conferences/meetings/seminar venues.
Теl. No.: +381 31 811 435